Kermit Junior High School Bell Schedule
Fine Arts Night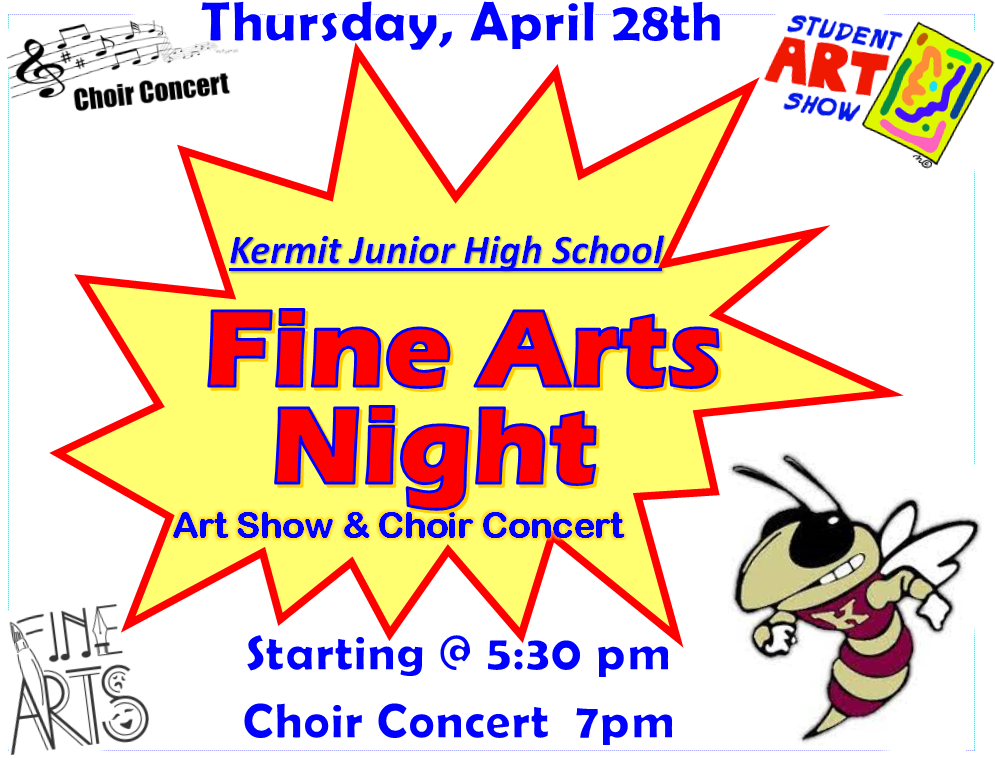 Easter Holiday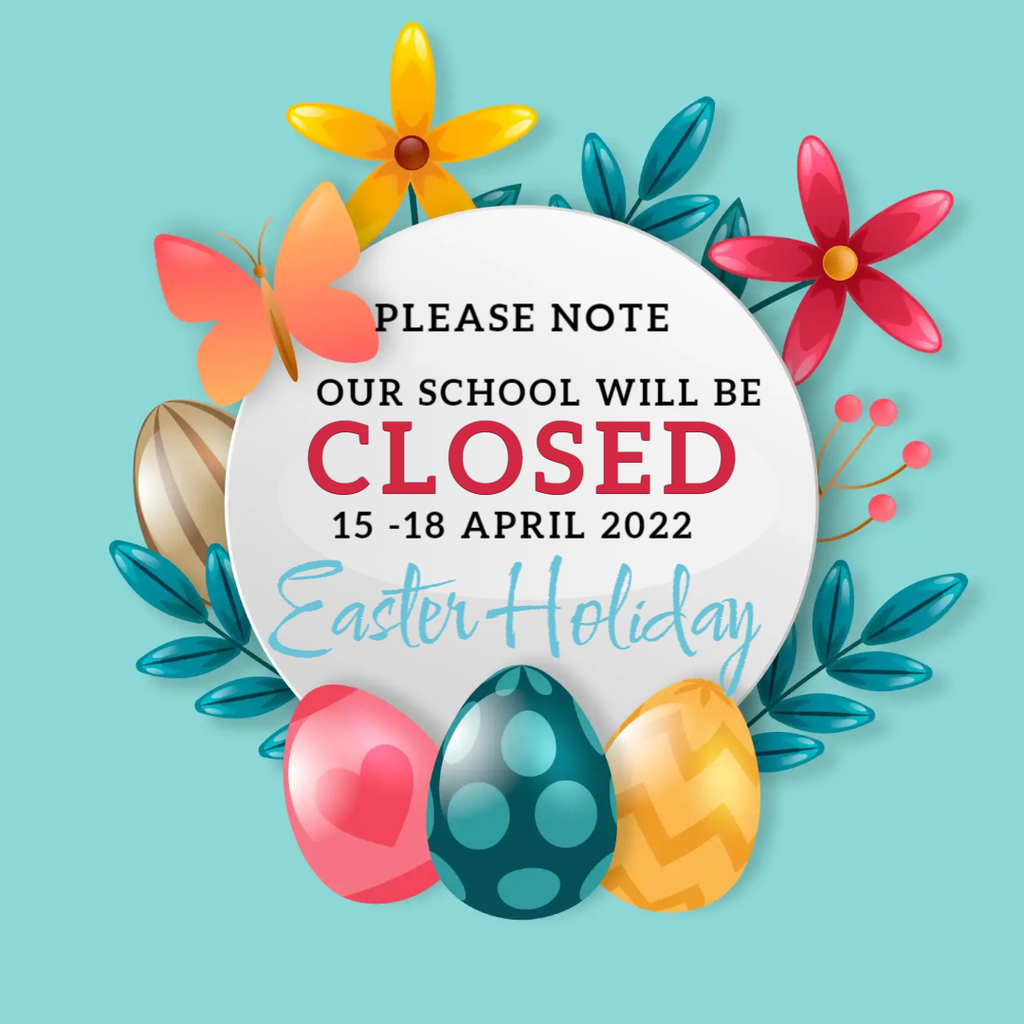 Celebrating Library Assistant Day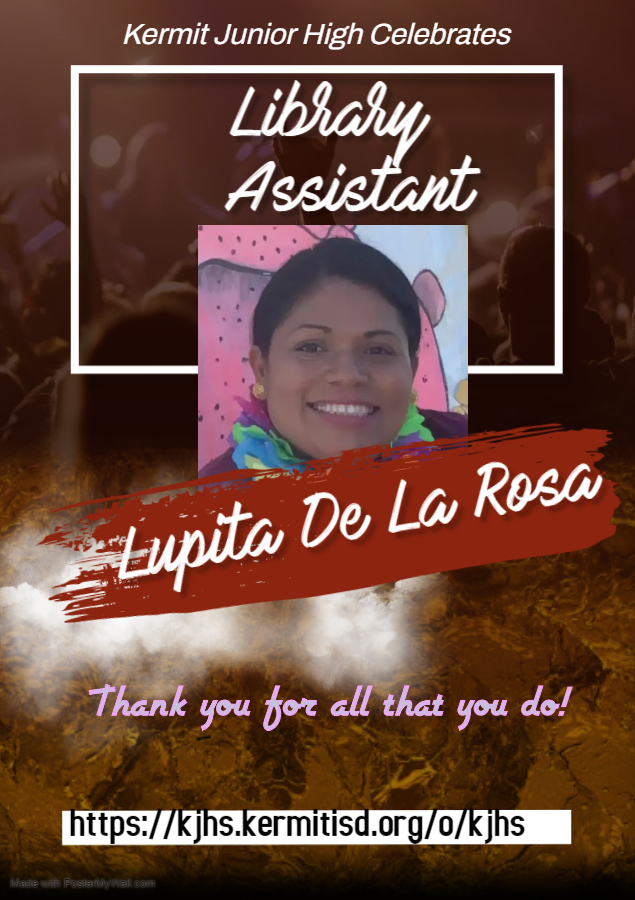 The KJHS Band traveled to Crane yesterday morning for their UIL Concert & Sightreading Evaluation. The band represented Kermit ISD well and had a successful experience! They earned a Division 2 (1-2-2, Excellent Rating) in concert and Straight 1's (1-1-1, Superior Rating) in Sightreading! The students were ecstatic about their results and we are proud of the effort they displayed being the first band to play that morning. This group of 7th and 8th graders earned a Division 1 for the first time in EIGHT years overall and for the first time in ELEVEN years for Sightreading! Amazing things are happening for our band program at KJHS!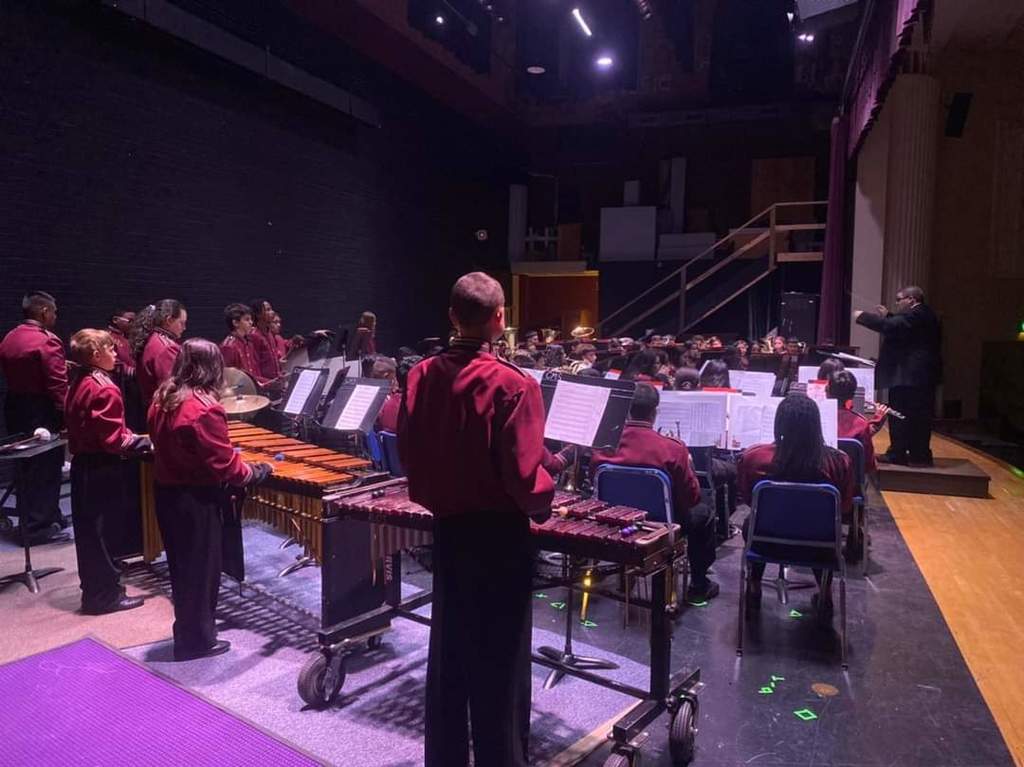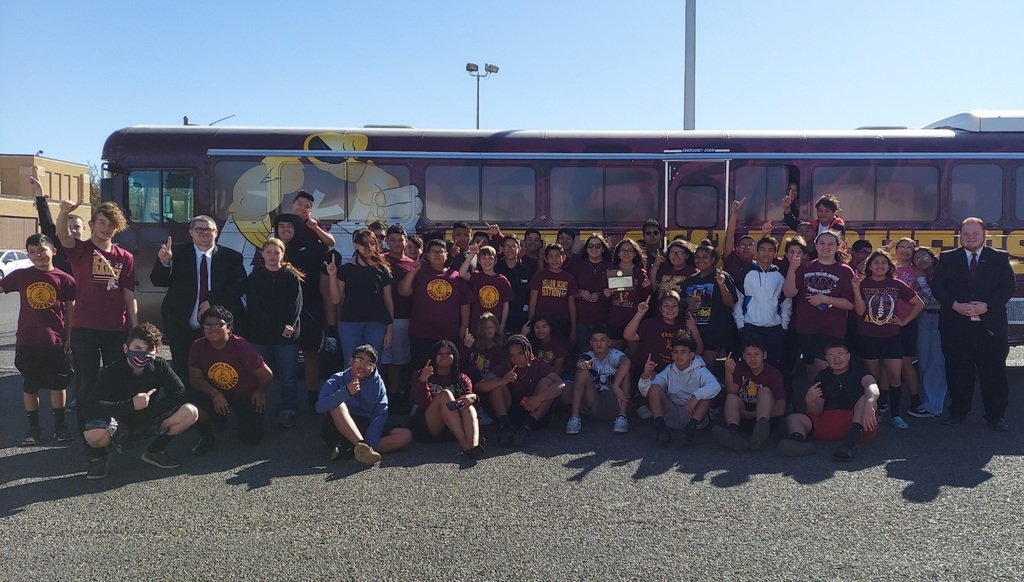 Saturday was a big day for Kermit Junior HIgh. Five of our students entered their science fair projects in the Permian Basin Science and Engineering Fair. They competed against all schools, large and small throughout the region. Taking 1st place in Physics and Astronomy is Aanya Sharma with her project titled, Hydrodynamics of Geometric Shapes. Earning 2nd place in the Engineering Mechanics category is Barrett McNurlen with his project titled Drill Illumination. These students will now compete against kids from all over the state in the Texas Science and Engineering Fair at Texas A&M University. Well done both of you! Good luck at the State Fair! Let's go Daubers!!!
We would like to express our gratitude to our Counselor Mrs. Garcia. You make a difference and add value to those you work with on a daily basis at KJHS.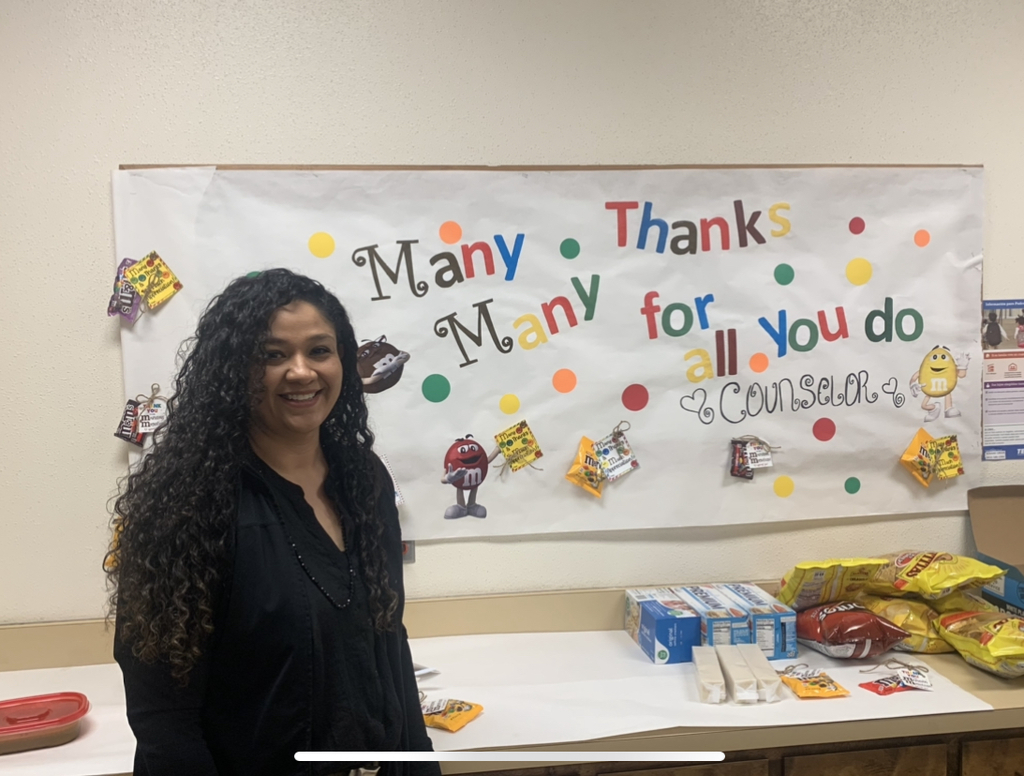 Kermit ISD will start school at 10:00 am, Friday, February 4, 2022 , due to the inclement weather we are experiencing. Maintenance will report at 7:00 a.m. to help all campuses. Office staff and custodial crews are to report at 8:00 a.m. Central administration personnel and administrators are to report by 9:00 a.m. to answer phones and be available to the public. Buses will start with their routes at 9:00 a.m. Teacher and support staff are to report by 9:15 a.m. Students will be allowed to be dropped off as early as 9:30 a.m. at each campus. We will continue to monitor the weather situation closely and keep you informed through School Messenger, Twitter, Facebook, KISD's website and the news Respectfully, Joe Lopez Joe Lopez, Ed. D. Proud Superintendent of Schools
School Cancellation Notice for February 3rd from Dr. Joe Lopez.
Parents, Please note that the UIL awards are Thursday night not Tuesday. We look forward to seeing you then.
Parents, We are working closely with our fundraising company to gain information on our pie orders. Due to supply shortages our pie orders have been delayed. We are estimating delivery to be by the end of January. We will keep information posted as we move forward.
Child Nutrition Staff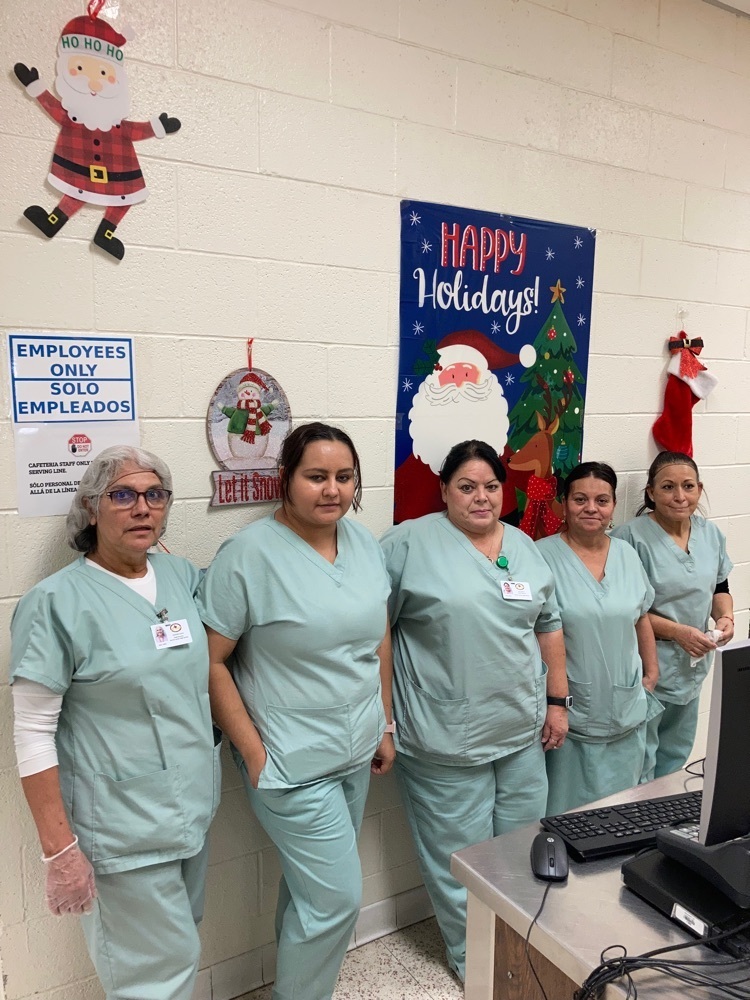 Parents and Guardians, Please remind your students to get any missing books, calculators, or laptops turned in by Wednesday, May, 26. All accounts need to be cleared so that they can register next year.
Our 8th graders working hard at the TSI Bootcamp!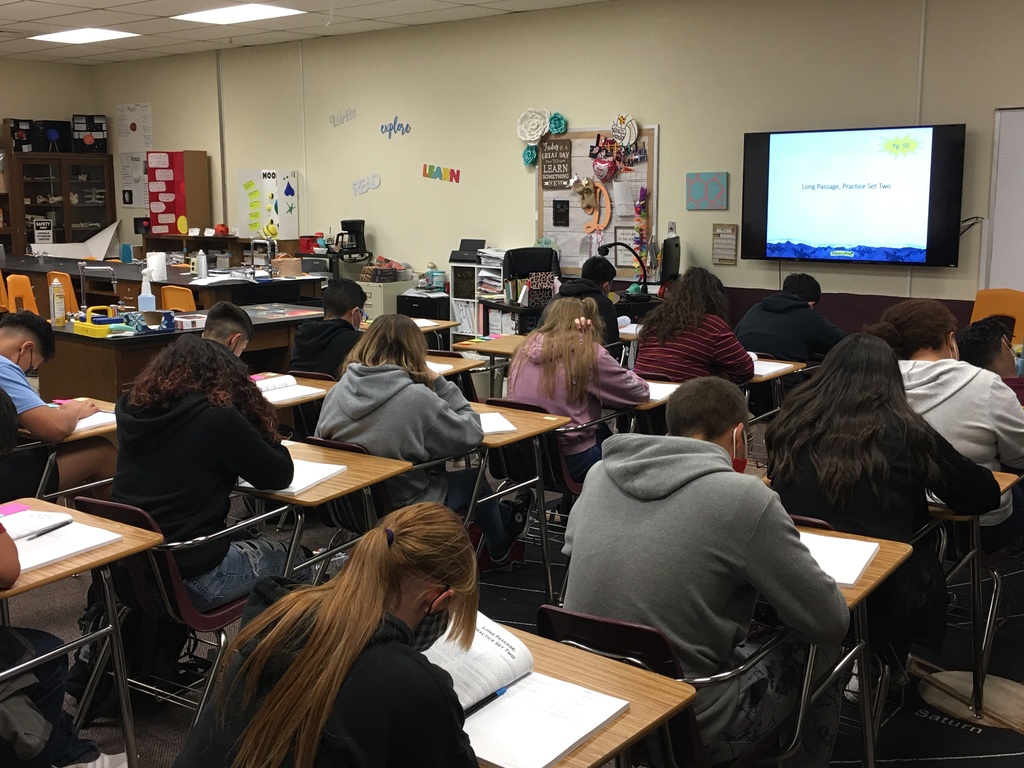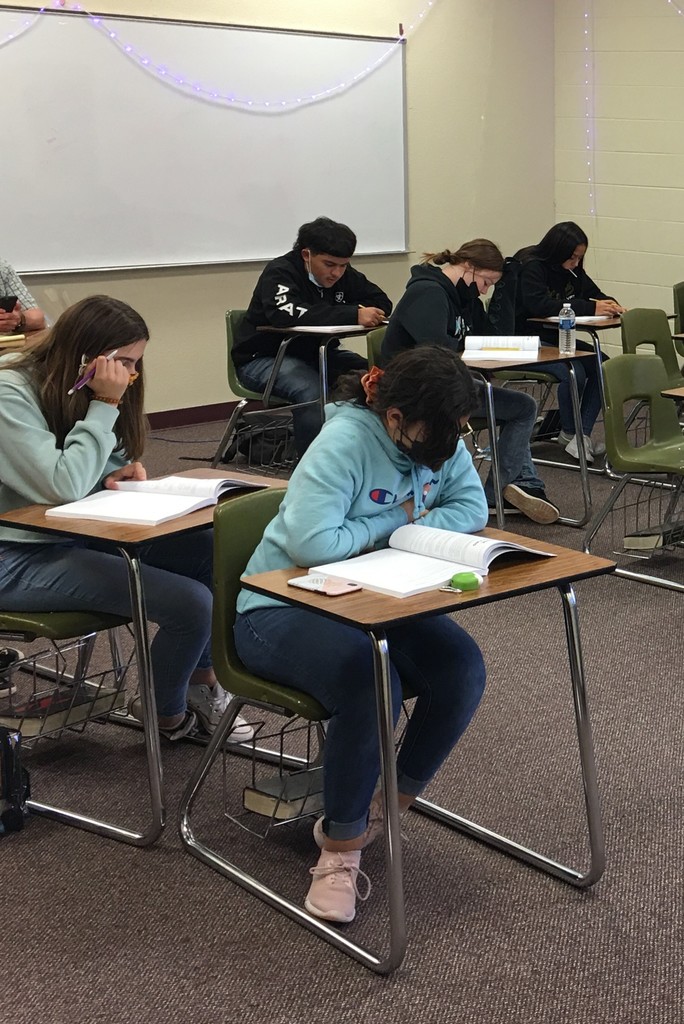 Parents, Please look around your house for any of our library books. We are missing a lot, and I am waiving library fines for the next two weeks as an incentive to turn them in. Your help is greatly appreciated!
Parents, If you are coming to the 5th grade awards program this morning at 10:00, please come in the doors by the auditorium. KISD Covid protocol is still in place so please wear a mask, and have your temperature taken at the doors.
Parents, Thank you for a great week of testing! We appreciate all of the help and support that you all gave us!
Parents, don't forget that our 8th grade students will be STAAR Testing today and tomorrow (Science and Social Studies). Please encourage them to do their best!
If you missed the Junior High Band Concert last night, then you missed a treat! Both bands really put on a show! Way to go guys!